Master Your Boating Experience
DISCOVER THE EASE AND PRECISION OF HELM MASTER®
INTUITIVE CONTROL FOR MULTI-OUTBOARD BOATS
Helm Master is a fully integrated boat control system that includes an enhanced binnacle control, a streamlined digital display, push-button start/stop switches, an RFID key fob and an innovative joystick. The joystick moves large craft in surprisingly agile ways, making navigating crowded marinas and docking in tight slips much less intimidating.
Yamaha makes boating even more effortless with Helm Master's SetPoint™ modes. Fine-tune your position while in StayPoint™, FishPoint™ and DriftPoint™ using just the joystick, as well as Pattern Shift for more precise operation below standard in-gear trolling speeds.
THE BENEFITS OF HELM MASTER
CONVENIENCE & CONTROL
JOYSTICK DOCKING & MANOEUVRING
Twist or apply pressure to the joystick in a given direction and the engines respond instantly, with thrust that mirrors the amount of movement you input via the joystick. Intuitive joystick maneuvering allows you to move your boat in forward, reverse, laterally left or right, on a diagonal or to pivot it 360 degrees in place.
INDEPENDENT OUTBOARD PROPULSION
Helm Master® uses simultaneous forward and reverse propulsion, along with steering control, to position and move your boat. The joystick makes this maneuverability look simple, but beneath the water, each of your outboards may be in a different gear, at a different angle and at a different RPM to achieve a desired move-be it diagonally, side-to-side or pivoting on point.
KEY SWITCH PANEL WITH YCOP®
You can engage all outboards with a single RFID key fob and use the All Start button to start them automatically in sequential order. The Yamaha RFID key fob also activates the Y-COP® outboard theft-deterrent system, which disables your ignition and fuel systems for security while your boat is unattended at the dock.
Helm Master's enhanced binnacle adds another level of control to your boating experience. It allows you to automate trim adjustments and speed control, select your second station, single-lever operation and center engine(s) only operation, all with the touch of a button.
DOMINATE THE WATER
Set Point
APPLICATION-SPECIFIC CONTROL OF YOUR CRAFT
Fish directly below the boat, wait for a bridge to open or maintain position at a fuel dock - easily - with Set Point™. The Point suite includes Fish Point, Drift Point and Stay Point modes, which allow you to automatically lock in your position, heading or both.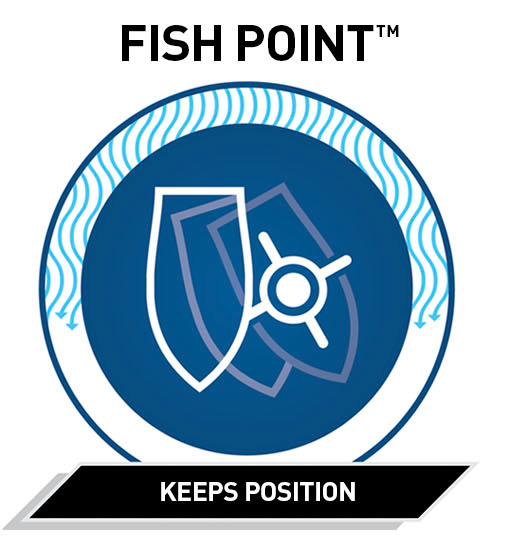 Maintains a selected position, but not a heading, primarily using only idle RPM.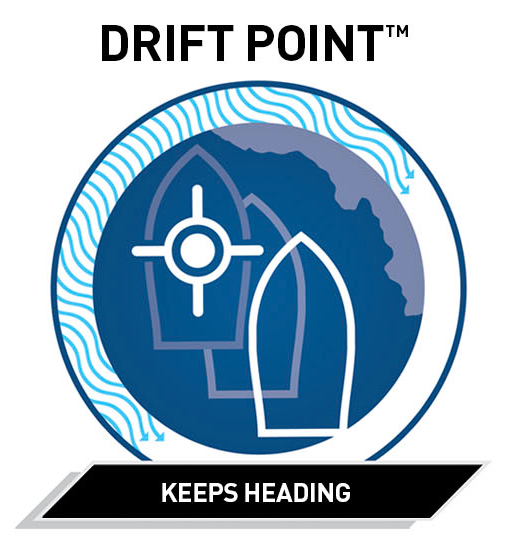 Maintains a selected heading, but not a position, drifting the boat with the wind or current.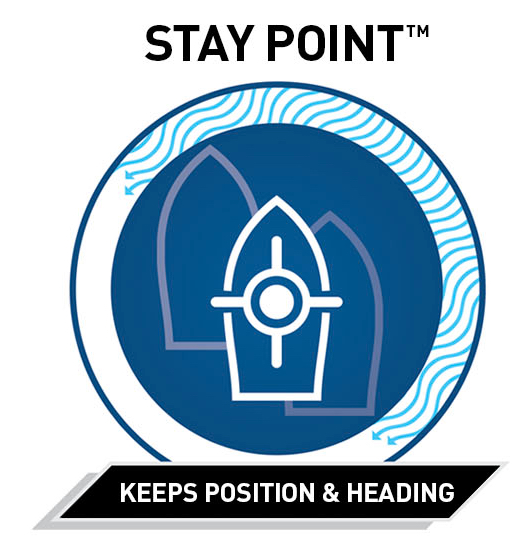 Maintains a selected position and heading, keeping the boat near a particular spot.
AT YOUR FINGERTIPS
ENHANCED DUAL BINNACLE
Station Selector: Press this button to select your second station.
Speed Control: Once you reach your desired RPM, press Speed Control to hold or throttle up or down with the touch of a button.
Single-Lever: Press this button to control up to four outboards with the port-side lever only.
Trim Assist: Program trim angles to specific RPMs, setting five points throughout the full RPM range. This automates engine trim as you accelerate or decelerate, maximizing performance and fuel economy.
Free Throttle: This button throttles up the selected engine, when the shift function is disengaged.
Centre Engine: Press this button to run only the centre engine (or engines) when trolling or in no-wake zones.
Pattern Shift: This feature allows the operator to troll below standard in-gear trolling speed by shifting into or out of gear to meet a desired target speed. In calm water, resulting minimum speed can be set at less than 0.5 MPH.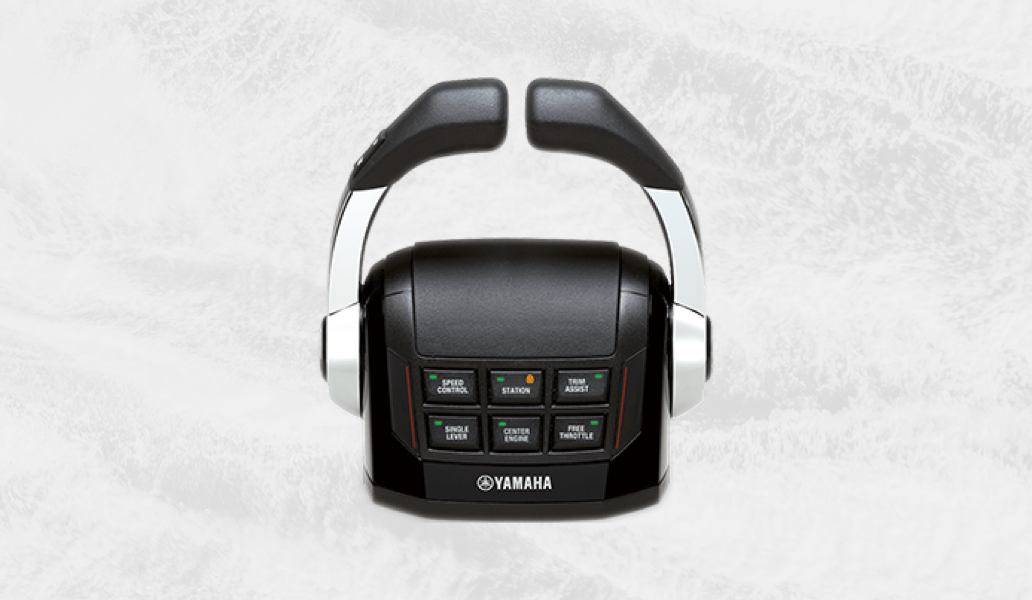 AT YOUR FINGERTIPS
CL7 Touchscreen Display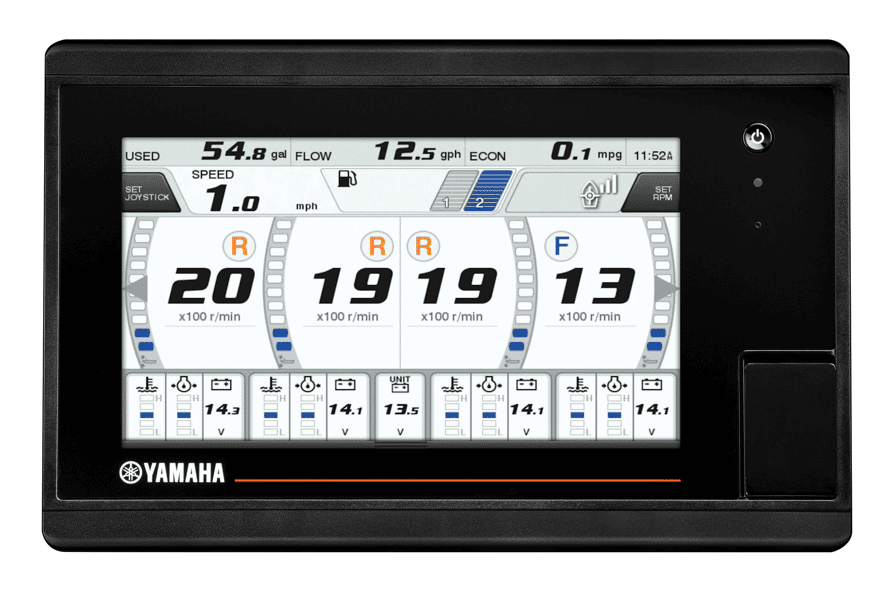 7-Inch Touchscreen Display
Yamaha's most exciting and streamlined instrumentation yet, the CL7 allows you to monitor vital boat functions and the performance of up to four outboards on a single screen. With new functionality and software upgrades, CL7 now has Command Link® Capability, which includes gauge integration, mapping and NMEA 2000® networking.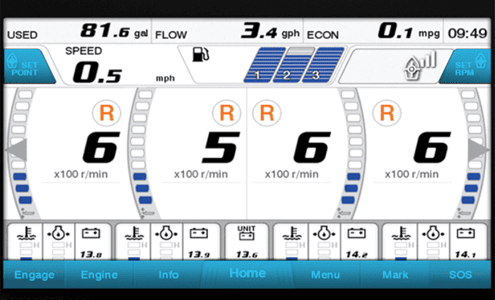 The new CL7 touchscreen display includes the option of built-in detailed freshwater and saltwater maps. It also allows you to access SetPoint
™
to program your preferences for the new FishPoint
™
, DriftPoint
™
and StayPoint
™
modes.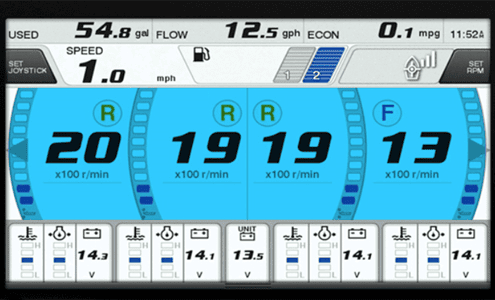 MONITOR UP TO FOUR OUTBOARDS
Helm Master's manoeuvrability and some of its new SetPoint
™
functions are achieved with independent outboard articulation and thrust vectoring. So, each outboard may be running at different RPM or in a different gear, all at once, to achieve a desired manoeuvre.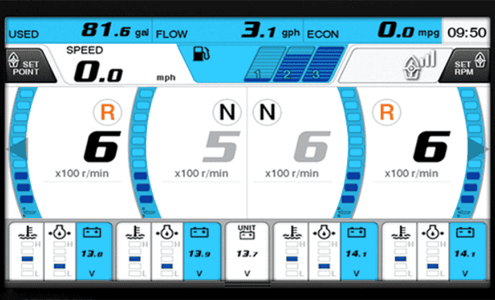 SET PREFERENCE & MONITOR PERFORMANCE
Through the CL7, you can customize settings such as screen contents, steering friction, display appearance and auto-off power-down timing, You can also monitor critical boat stats such as battery charge level, fuel flow and economy and rudder angle. And that's just for starters.
Helm Master is compatible with Yamaha Digital Electronic Control (DEC) models from 150hp to 425 hp