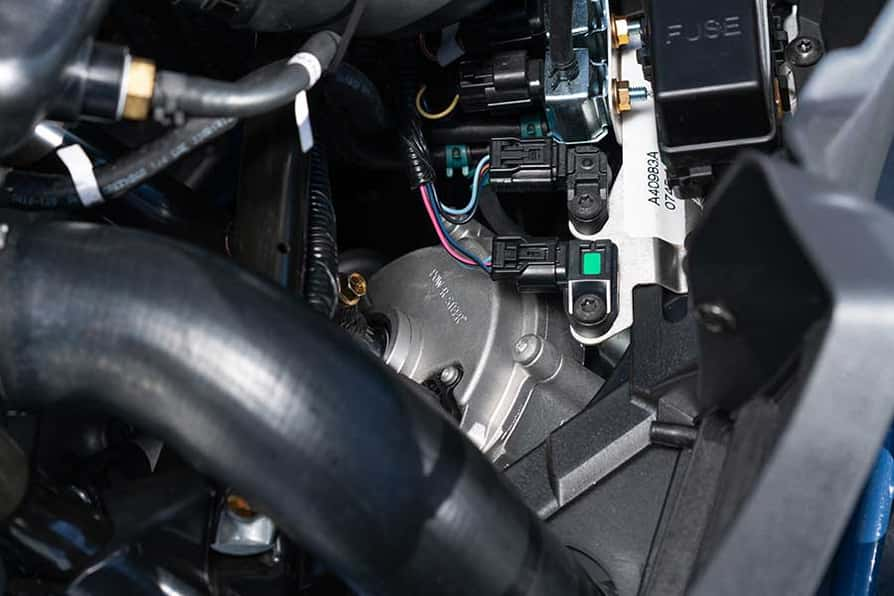 Yamaha Variable Electric Power Steering - 'EPS'
Yamaha introduced EPS for snowmobiles in 2011 pioneering the innovative technology that both reduces steering effort and increases steering precision.
The newest generation has reduced weight by over 3 pounds and incorporates a 'brushless' DC motor. No brushes to wear out means greater reliability and much better thermal performance or ability to maintain full output power for longer periods of time. Variable assist EPS utilizes a magnetic torque sensor to measure steering input based on torsion or 'twist' of the steering post resulting from handlebar input combined with ski resistance. The contact-less, magnetic torque sensor supplies this data to an integrated 'control module' which in turn, signals the brushless 'servo-motor' to assist the steering through its powered, worm-gear 'drive assembly'. The system also provides engine 'rpm' and vehicle 'speed' data to the control module which calibrates for increased assistance at lower speeds then tapers off as the vehicle accelerates giving a more balanced, natural feel or 'connection' to the terrain. When the skis encounter an abrupt force that works against the steering input, the torque sensor alerts the control module to apply additional assistance to counteract or 'resist' the negative input. This effectively reduces the steering effort required while enhancing predictability for greater rider confidence and less fatigue.