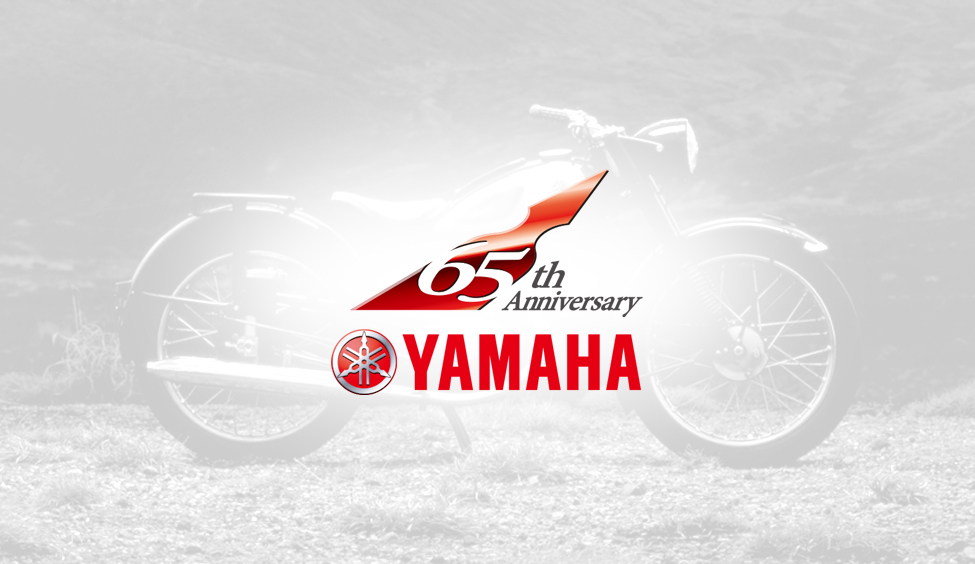 Developing Multipurpose Engines and Expanding Their Uses (Part 9)
A power product helping solve societal challenges and offering people around the world a more fulfilling lifestyle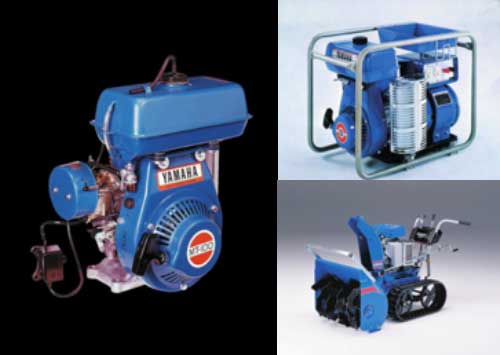 Yamaha's first multipurpose engine, the MT100 The ET1250, Yamaha's first portable generator Yamaha's first snowblower, the YT665
In 1969, using the 2-stroke engine technology gained from developing motorcycles, Yamaha developed and released its first multipurpose engine, the MT100.
It was used around the world for tasks like running pumps for bringing up groundwater and portable power at public works construction sites. Also, in areas that still lacked the infrastructure to generate or transmit sufficient electricity, small electric generators were needed.
So in 1973, Yamaha released the ET1250 as its first portable generator, which was also powered by a multipurpose engine.
From its beginnings with these multipurpose engines, Yamaha's power products business has grown to today include racing karts, snowblowers and more.
Taking FRP Technology Beyond Its Base in Boatbuilding (Part 10)
Expanding into non-vehicular fields with material processing technology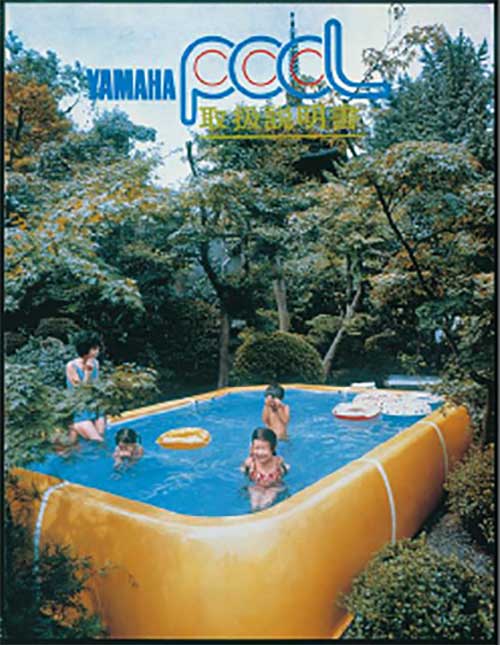 Yamaha's first FRP pool, the Family Pool
It was in the early 1970s that Yamaha began considering how to put the FRP processing technology it had honed through its boat business to use toward a new venture. Candidates included camping cars, capsule-style houses and various other products for recreation.
From among these, the decision was made to make FRP swimming pools Yamaha's next business pursuit as they were still a unique concept.
In 1974, four different models of the unit-type Family Pool were released. As a material, FRP offered advantages in its workability, greater freedom for pool design and functions and more, qualities that were lacking in pool-building materials at the time. Once FRP's superiority was widely recognized, its use quickly became common throughout Japan.
Today, Yamaha is growing its business as Japan's leading pool manufacturer and is involved in the planning of large water parks, the management and operation of such facilities and more.
Dedication to Creating New Demand through the Customer (Part 11)
Providing opportunities to experience the fun and convenience to be had with a Yamaha

Motorcycle license class (1969), A waterskiing class (1964)
Yamaha Motor founder Genichi Kawakami believed that demand should be created through our own efforts, and that spirit of working to spread the use of Yamaha products grew into a unique part of the company culture.
For example, Yamaha began offering motorcycle license classes and riding courses together with dealerships, thereby extending a helping hand to potential customers who would in turn look to buy a Yamaha.
Other efforts included trail riding courses to showcase the fun of riding off-road, and boat license classes and sailing courses to introduce the joys of marine leisure.
Yamaha's methods for demand creation have long been one of the company's strong points, spanning each business and every product category.
World-Class Craftsmanship and Market Creation (Part 12)
Delivering Kando* and a more fulfilling life for people everywhere with business in over 180 countries and territories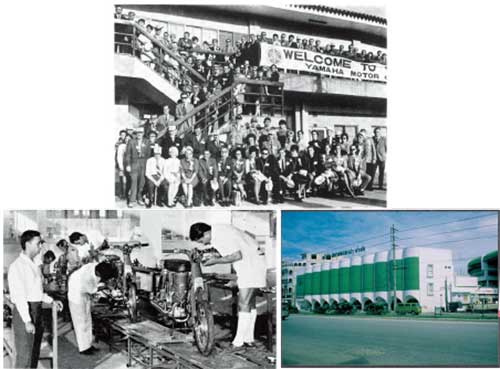 Top dealers from the U.S. visit Japan (1969), Pearl Yamaha began production and sales in India in 1963, Siam Yamaha was established in Thailand in 1964
"It isn't a product if it isn't world class." From the company's earliest days, Yamaha Motor founder Genichi Kawakami always aimed for world-class craftsmanship. In 1959, not long after the company was founded, subsidiaries of Nippon Gakki were established in the United States and Mexico. They also sold Yamaha Motor products locally, representing the first steps into the global market.
Work to pioneer new markets also accelerated in the 1960s as Yamaha found and formed partnerships with companies to carry the Yamaha name in their respective markets. Working to grow together with these partners has led to the Yamaha Motor of today that now conducts business in more than 180 countries and territories worldwide.
The shifting of production and development to local subsidiaries also continues to move at a swift pace and globalization of our manufacturing, sales and technology arms is underway.