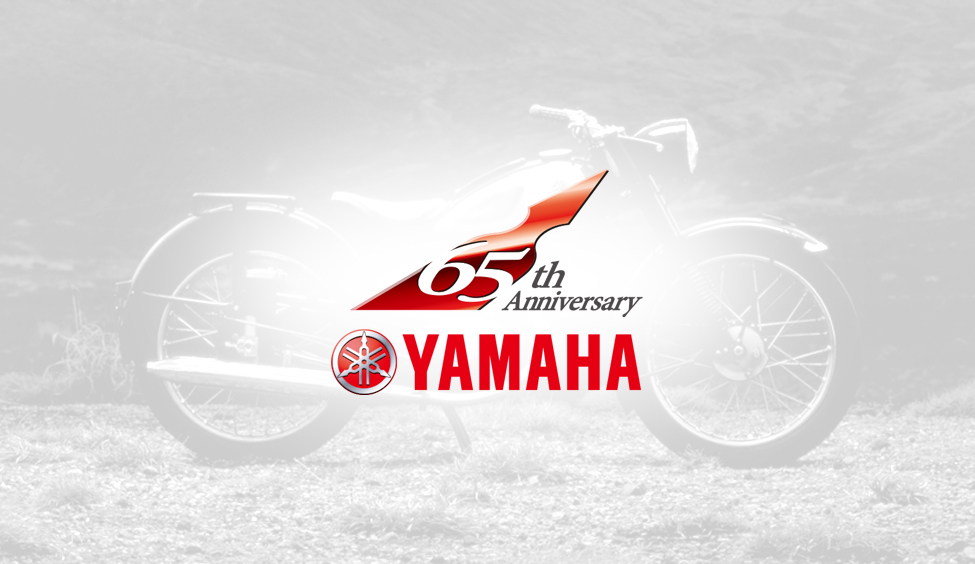 A Never-Ending Spirit of Challenge to Open up New Fields of Business (Part 13)
With an eye on societal issues, Yamaha ventures into natural gas products and biotechnology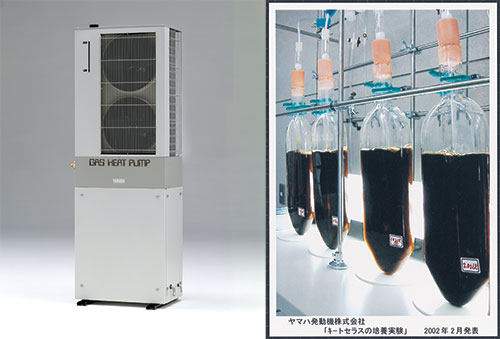 The YGC401WS industrial-use gas heat pump / Success in the mass culture of Chaetoceros phytoplankton
The world economy experienced two oil crises in the 1970s and this turned countries to focus on reducing oil dependency and reevaluating their energy policies.
In the 1980s, Japan pushed for alternative energy sources such as natural gas as part of its national policy, and believing gas heat pumps (GHP) and air conditioners to be markets with high future promise, Yamaha joined the industry.
After that, the Kyoto Protocol was adopted at COP 3 in 1997 with the aim of reducing greenhouse gas emissions. From this development, Yamaha came up with a novel idea to use CO2 as a resource instead and began its biotechnology business.
Although both these ventures were eventually abandoned due to changes in government policy and shifts in the industry and company management, Yamaha ha seen the issues facing society and shown pioneering spirit in its efforts to tackle them.
American Flair Inspires Refinements to The Unique Style of Yamaha (Part 14)
Fun, versatile vehicles born from North America's leisure scene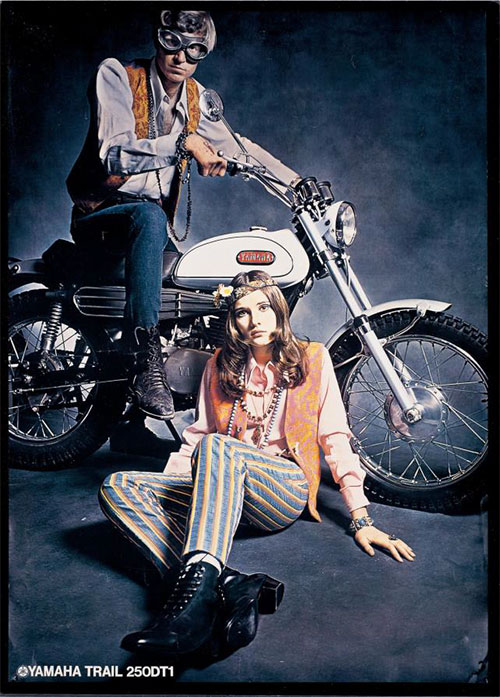 The DT-1 trail bike became a worldwide hit
Numerous Yamaha vehicles, from snowmobiles, trail bikes and ATV/ROVs to personal watercraft (PWCs) and jet boats, found their inspiration in North America and were refined by the vast lands and expansive waters of the continent.
The extremely popular DT-1 trail bike released in 1968 was a model that truly blended American motorcycling culture and fun with Yamaha craftsmanship.
At the time, annual sales of off-road motorcycles in the U.S. were on a scale of some 4,000 units, but the DT-1 alone had completely sold out with a whopping 12,000 units and its popularity soon spread to Europe and Japan.
Born in the wide-open lands of the U.S., the free spirit of fun it embodied later became part of the many diverse values behind the unique style of Yamaha.
Developing Low-Speed Mobility and Automated Driving Technology (Part 15)
Entering the golf car market and gaining technology for the future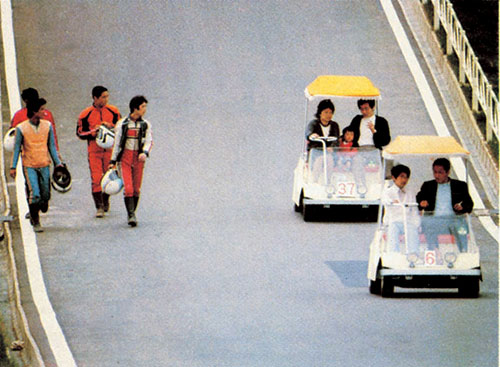 The OT11 land car
To coincide with the opening in 1974 of its Tsumagoi recreational complex, Yamaha released the OT11 land car for covering short distances within the facility.
Based on the OT11, Yamaha then released its first golf car, the YG292, the following year.
Releasing a golf car afterward was on purpose, with the expectation that developing a land car first would allow for subsequent accumulation of knowledge of electronic control systems, new mechanisms and ways to make operation easier.
This could then be adapted for use in other business pursuits. Just as intended, the golf cars spawned by the land car project led to developments like electromagnetic induction-guided automatic driving systems and several other technologies that are paving the way to the future.
Pursuit of Production Efficiency Births Yamaha Industrial Robots (Part 16)
Triggered by the automation of Yamaha factories, the pursuit grew into today's robotics business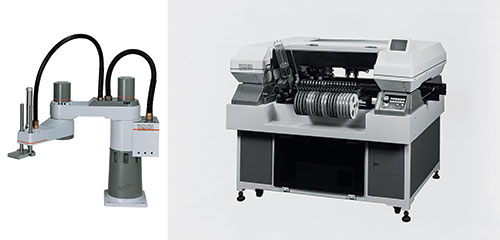 The YK8020 SCARA robot was the world's fastest when it was released / The world's first twin-beam Surface Mounter YM6000T
AfAs Yamaha's business grew and the models under production became more diverse in the 1970s, the company looked to boost production efficiency at its factories and began R&D into industrial robots.
It was in 1976 that Yamaha commercialized its first robot and began sales to businesses.
Yamaha's industrial machinery lineup later expanded to include Cartesian robots, SCARA robots and surface mount technology (SMT), and the cutting-edge robotics expertise gained through these ventures has become an important foundation for building Yamaha's future.
... Read HERITAGE STORIES - PARTS 17-20